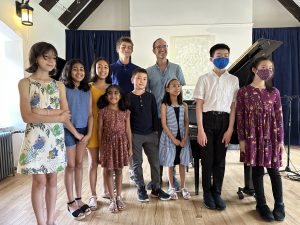 Backround
I graduated in 2006 from the AMR professional jazz school (Geneva, Switzerland) and obtained a degree in music education from the Conservatoire de Musique de Genève that same year. I have been teaching students of all ages and levels since 2004. I graduated in 2011 from Queens College of New York with a Masters degree in Jazz Performance where I studied with professors David Berkman, Antonio Hart, Michael Mossman, Johannes Weidenmüller and Howard Brofsky. Since then, I have been maintaining a private studio in the New York City area, teaching from home and travelling to my students. In addition, I teach jazz piano at SummerKeys Music Camp (Lubec, Maine). I taught on the piano faculty at the Turtle Bay Music School (NYC) from 2014 to 2019 and am currently on faculty at the Brooklyn Conservatory of Music (BKCM) since 2021.
Approach
My approach to teaching is to help each student deepen their love for music and improve their musical abilities. My goal is to discover areas needing improvement or areas not yet explored and use a combination of both creative and methodical techniques to work on these areas. Here are some of the topics that I cover during the lessons:
Posture at the piano and hand position
Reading and writing music (rhythm, melody and harmony)
Ear training
Classical repertoire
Discovering and developing the jazz repertoire
Improvising over chord changes
Developing improvising techniques
Transcribing the music that the student likes and teaching them to play it
Composing their own songs and playing them
Expanding their knowledge of music through listening
During my years of teaching I realized that every student has a different way of learning. My aim is to help them progress until they get to the goal they will have set for themselves.
Although I expect the student to practice in a disciplined way, my teaching enables the student to progress with even limited practice time. My aim in teaching you or your child is to increase your love of music and help you progress so that you can have even more fun at the instrument, while playing with other people or listening to music!
Rates
Prices per semester are based on a 16 lessons per semester basis. (this amount is subject to change depending on public school holidays)
Lessons at your home:
30min: $85
45min: $95
60min: $110
Lessons at my Brooklyn studio:
30min: $75
45min: $85
60min: $95
A recital fee of $35 per performer will be added to the semester amount.
Payments
In order to promote consistency and steady progress, I ask that the whole semester be payed on the first lesson.
A payment plan is available by paying in three installments.
Studio Policies
Cancellations
Students are eligible for up to 1 make up lesson each term for missed lessons when notice is given 24 hours or more in advance. In the case of illness, lessons cancelled by 10a.m. on the lesson day may be eligible for a make-up lesson. Non-illness cancellations of less than 24 hours are not eligible to be made up or reimbursed.
Makeup Lessons
I understand that from time to time scheduling conflicts result in a student missing their weekly lesson. Students are allowed up to 1 makeup lesson per term for an absence for which I have been notified in advance. Every effort will be made to accommodate scheduling for a makeup session, however, it is the students' responsibility to make sure they receive any eligible make up lesson as they are non-refundable and may not be transferred towards the following semester.
Expectations
Students are expected to practice on a regular basis and be prepared for each lesson. Parents are expected to enforce a regular practicing routine on a weekly basis. For students younger that 8 years old, parents are expected to sit with their child and help them practice.
Recitals
Students are held to take part in a recital at the end of each semester. The $35 recital fee will be payed at the first lesson.